I went to bed at 8:30 last night thinking that I'd be completely fine on 5 1/2 hours sleep like usual but my traitorous body gave up the ghost at about 11am. I crashed like a car on a slippery road. I'm still "bazodee" (it's West Indian patois for stupidly disoriented) and trying to shake the cobwebs. Thank goodness sexy royals don't get married every day.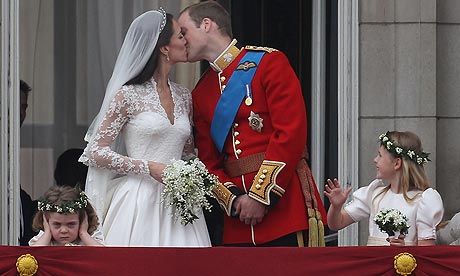 He actually said something like (shall we do this?) before planting this on her. I believe my exact Facebook update was "Squeeeeee!!" but I may have fudged on the number of e's. I love the little girl on the left.
In my "
Ummm... No"
fashion collection:
Andrew's daughters.
Um, no
. And the Avatar/Tick/latex superhero costume department...
SHAZAM!
:
Um, no
.
I'll leave you with my favourite clip of the wedding. Enjoy and have a terrific weekend!
*** Stealing a nap in the middle of the day = AWESOME! ***
kxx