Besides the fact that I yawned all through my day today, and for the first time since the 90s I haven't seen all the Best Picture nominees, I still enjoyed the show. Here are my favourites:
Best Dress: Ellie Kemper from The Office and Bridesmaids. The colour and sheen reminded me of a juicy red caramel apple. So gorgeous and unique.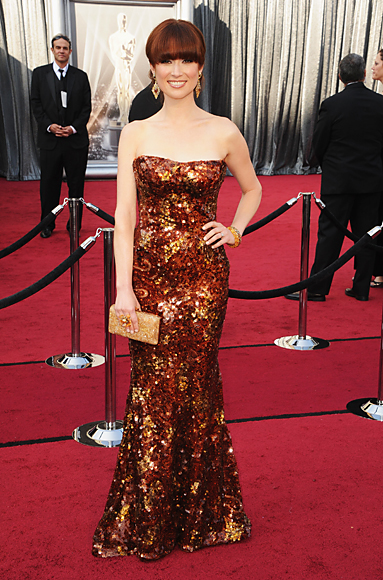 Best Comment: from Zach Galifianakis. When asked who he was wearing, he replied "Garanimals." Loved it.
Favourite Red Carpet Moment: The Sasha Baron Cohen/Ryan Seacrest tête-a-tête. If you haven't seen it already... really? Where've you been all day?
Aside from that it was nice to have Billy Crystal back. I always love his openings. And his comment about watching millionaires giving each other gold statues in this economic downturn had me howling. I love his hosting. Nothing mean or petty just pure funny stuff. I hope he does it again.
I celebrated this year with a bag of Doritos and orange juice rather than my usual champagne and brie extravaganza. I mean one year I actually travelled to Miami just to watch the telecast on tv with my bestie Kathy, for goodness sake. But I just wasn't feeling the excitement of the run-up to the show and the event itself this year. Lots of stuff is happening in the real world that I couldn't ignore. No worries, I'll pick it up again in 2013. So, did you watch? Did you like?
kxx